The Poetry Deal by Diane di Prima
reviewed by klipschutz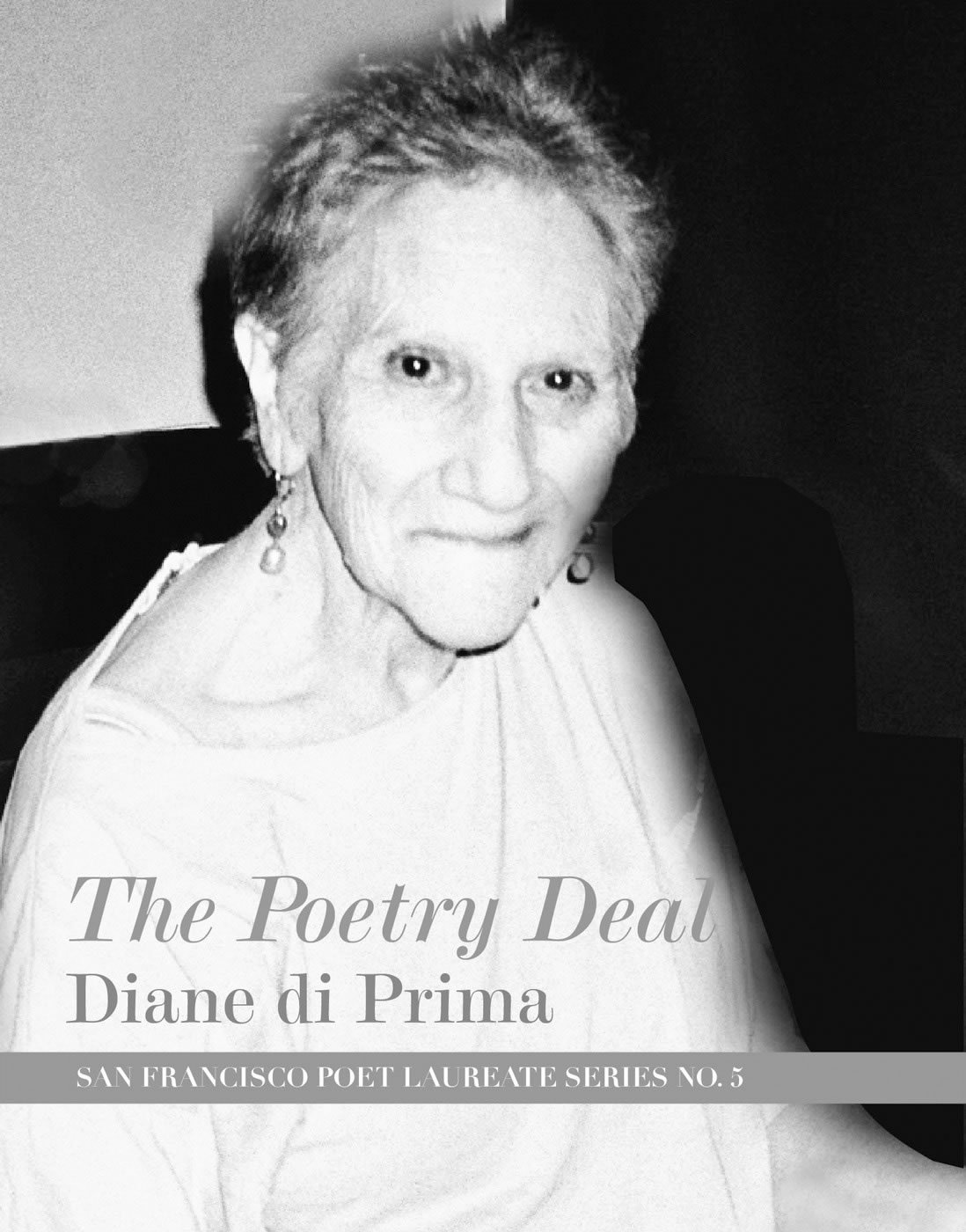 The Poetry Deal
Diane di Prima
City Lights Books
2014




"Can you feel what I feel / Can we make it so that's part of the deal," Robbie Robertson sings on one of his solo releases. The title poem of Diane di Prima's first new collection in nearly thirty years lays out the terms of the deal she made, directly addressing the art form she has practiced almost daily over a long, full life. She expresses gratitude:
I don't want anything you don't already give me:
trips to other worlds, dimensions of light

intermixing obeisance with draw-the-line resolve:

You can not make sense for years & I'll still believe you
drop husbands, tribes & jobs as you wish

* * *

"Choose between me & it"—"it" has always gone
Except when "it" was my kids

Husbands beware!
The Poetry Deal, issued as part of the City Lights Laureate Series, opens with di Prima's 2009 San Francisco poet laureate inaugural remarks, which double as an introduction to first-time readers and a welcome back to fans. In them, she reads older poems, and quotes both Keats and Pound.
The occasional poems in The Poetry Deal—delivered at May Day celebrations—remind me that di Prima has filled the role of public poet, reciting before large crowds throughout her career. In 1967, my friend Charles Potts brought her to Seattle, to perform on a bill that featured Buffalo Springfield, the Byrds, and the Seeds. He still remembers her perseverance in the teeth of the sheer noise and indifference of the rock 'n' roll throng.
By the late 1960s, her stance had shifted from that of the 1950s (best expressed in her New York years memoir Recollections of My Life as a Woman):
To be an outcast, outrider was the calling. Not fame, or publication. Keeping one's hands clean, not engaging. By staying on the outside we felt they weren't our wars, our murders, our mistakes.
Never part of the establishment, by the late 1960s, at the advanced age of nearly forty she had become an elder stateswoman. As for her earlier stance, some bearings might help: Di Prima's generation endured Joseph McCarthy's rampage and the Rosenberg executions. Henry Miller's books were contraband. During high school, she and a friend, discovered reading Thus Spake Zarathustra, were sent to a priest, who "wound up shouting at us, 'Don't think! Don't think! You'll spoil your faith!'" Naturally, the two girls found him ridiculous, but nonetheless learned a lesson of the times: not to let authority figures know what they were reading, or thinking.
As might be expected from someone di Prima's age and experience, The Poetry Deal contains its share of nostalgia, and elegies, for, among others, Philip Whalen, Kirby Doyle, Pigpen (of the Grateful Dead) and Audre Lorde. There are also memorials for non-famous friends, casualties of the AIDS epidemic.
I do not take well to being schooled by poem, and di Prima can sometimes make me roll my eyes. The opening of "Haiti, Chile, Tibet," however, stopped me in my tracks, despite the screaming caps:
LET'S STOP FOR A MOMENT TO REMEMBER
WHAT WE ARE
a handful of tribes on a rather small rock
Bracing and sobering at once, given the competing connotations resonating from the word "tribes" in a post-9/11 world.
Perhaps being the mother of interracial children provided her unusual perspective in "& About Obama":
if you were living
in the enemy's house
wife & kids there too

& guarded—all of you—
by known assassins

How wd you fight
do you think
for what were only—
after all—dreams
(Poet as prophetess: Shortly after the book came out, a Secret Service scandal over lack of presidential protection came to light.)
In "Gracias," di Prima takes a lunch break from her teaching duties, amid the sights, sounds and aromas of San Francisco's Mission District: "…The corn chips / taste of maize growing tall in desert… / She brings / guacamole I see avocados of San Joaquin Valley… / Add cheese & sour cream… / cows on northern / California hills." Slight, but touching. Counting blessings for each ingredient in turn, the poem then broadens its frame to embrace "Chinese man / in Oakland A's cap, gay lad in enormous / cowboy hat…" The human comedy on display, a celebration of locavore culture, di Prima working fast, like a painter, getting it all down on the fly on the canvas of the page.
Her poems have always drawn from a range of forms. Among her few rhymes is the standout early "Dee's Song," a ballad that teeters on the verge of doggerel while delivering its stunning, tragic tale about a woman on way to prison for "ten years and a day" on a heroin charge. (See Pieces of a Song: Selected Poems.) Diverse forms can be found in The Poetry Deal. We get alchemical arcana reminiscent of her epic-length Loba, tear-down-the-walls fervour a la Revolutionary Letters, field of composition poems.
The multi-page "Clearing the Desk" hearkens back to her early and underrated New York School-influenced book of stories and poems Dinners & Nightmares (1961), and almost reads as light verse, but is anything but. Shedding her priestess robes, the incendiary's marching boots, and urge to instruct, in a burst of energy cum parade of minute particulars she shows and tells how dailiness can overwhelm even a legend. Via the list poem's chiseled form, she encapsulates mood swings and exhaustion, through the prism of demands on a sought-after public person's time and energy. By turns playful and spent, bemused and confused, its easy touch drills deep, even as she blows off countless correspondents in one long sweeping motion. Here are some salient excerpts:
I'm sorry I was
sick
on the road
at the gym
on retreat
meeting a deadline
buying socks
[…]
when you came to town

I was too
broke
tired
busy
discouraged
dirty
unhinged
[…]
to answer yr letter
Later in the poem:
I'd love to send money (if I only had some) to
the UFW
Nalanda Translation Committee
[…]
the Society to Lynch Newt Gingrich
& that new one: People Against Impermanence
(such a sweet idea)
It concludes:
I don't mean to ignore you
or hurt your feelings
but if it helps at all
feel free to ignore this note
I will understand.
In my initial readings of "Clearing the Desk," the generational self-parody embedded in the standalone line "on the road" went right past me.
It bears repeating that the blinding media spotlight on the Beats lasted only two years or so, and was over by the early 1960s. The word "beatnik" became a punchline; the movement's founders went hither and yon. One of them, Diane di Prima, went to San Francisco and continued writing and living, the textbook definition of a survivor. Encountering her work in the twenty-first century, the young poet Sandra Beasley "was impressed by how fierce her voice was, how unapologetic." Oversensitive versifiers of either sex: Toughen up!
Ultimately, Diane di Prima will escape her status as the most famous female beatnik and a "feminist icon," and readers will encounter a multifaceted poet whose complicated lineages and stubborn personality produced a rich body of work containing several timeless lyrics, though it's far too soon to know which ones they are.
The latest collection by klipschutz (pen name of Kurt Lipschutz) is A Visit to the Ranch & other poems (Last Word Press, 2015.) Earlier books include This Drawn & Quartered Moon (2013) and The Erection of Scaffolding for the Re-Painting of Heaven by the Lowest Bidder (1985). He writes songs with Chuck Prophet, and with Jeremy Gaulke edits Four by Two. This review is adapted from a longer essay-review that appeared in Toad Suck Review #5 (Univ. of Central Arkansas, 2014).
This review first appeared in Pacific Rim Review of Books #20