Featured Poet
Annick Perrot-Bishop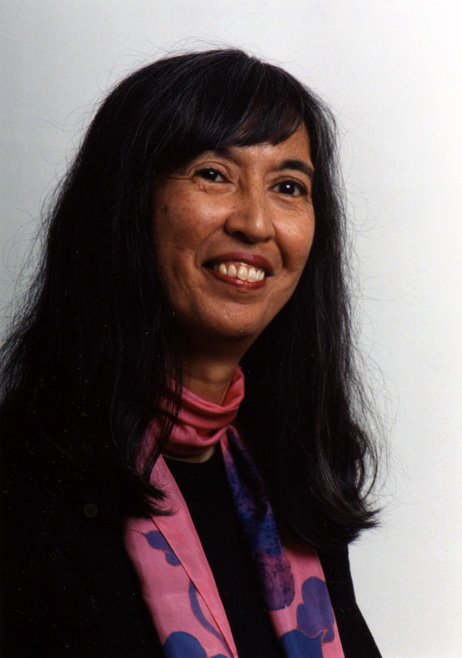 Annick Perrot-Bishop is a Francophone Canadian author of multicultural background (Vietnamese, Indian and French). A resident of St. John's, Newfoundland, she has published some sixty short stories and translations in literary journals and anthologies as well as five books. Her books in English translation are Woman Arborscent (2005), In Long Secret Rivers (2010) and Amber Waters Woven/Tissée d'eau et d'ambre (2012).
Neil Bishop's translation of Annick Perrot-Bishop's En longues rivières cachées (published in English as In Long Secret Rivers) won First Prize in the prestigious John Dryden Translation Competition (2008), organized by the British Comparative Literature Association and the British Centre for Literary Translation.
from Amber Waters Woven, Ekstasis Editions, 2012
English translation by Neil B. Bishop
Woman Arborescent:
You and I, Dancing Through Life/Entre nous, le voyage se danse
Un coup de feu dans la tête. Un soleil qui tournoie. Ce lieu d'avant me creuse comme une perte. Balancement tiède des banians, fleuve rouge, bleus matins. Dans l'air, le vivant craque contre l'ennui.
Au bord de la plaie, une enfant. Ses seaux de sable assombri d'eau. Elle ignore la chute possible. Toute proche. De ses doigts, elle touche la blessure. Regarde, émerveillée, la rougeur qui s'égoutte, s'épingle sur les aboiements du temps.

A gunshot in my head. Whirling sun. This before-place makes me empty, like a loss. The banyan-trees' warm swaying, the red river, blue mornings. In the air, life crackles against boredom.
At wound's edge, a little girl. Her pails of damp-darkened sand. She's unaware of the possible collapse. Imminent. Her fingers touch the wound. She marvels as she watches the dripping red, sticky on the howls of time.

Dans le métissage de tes yeux, le vent des côtes bouscule la touffeur des rizières. Obscurité de ta peau, soleil profond giflé de neige. Et les confluents de ton sang se déversent dans la grande eau d'un fleuve. Étrange parcours que tu ignores et dont j'aperçois, du bout de l'âge, les méandres.

In your race-mingled eyes, Celtic and tropical, coastal air collides with sweltering rice paddies. With your skin, sun-darkened, snow-slashed. And your blood vessels flow into the vast waters of a great river. Strange journey still unkown to you, and whose meanders I can see from my end of our age.

J'avance vers toi à reculons. Et dans ton regard plein d'attentes, se reflète le mystère de mon destin. Allons-nous nous rejoindre à travers le flottement des larmes? Oseras-tu prendre la main qui t'a trahie, risquant à nouveau l'abandon? Je t'espère au coeur des choses - jamais dites, jamais ressenties - comme la clé de mon présent. Toi seule peux combler la faille où dégringolent à grands cris mes peurs. Blottis-toi dans le noeud de mes pensées. Je serai ton écorce. Et toi, la sève de ma paix.

Pastwards, I approach you. And in your gaze full of hopes, I see the mystery of my fate. Shall we meet through the floating tears? Will you dare take the hand that betrayed you, risk being abandoned again? My hope seeks you in the heart of things—never said, never felt—as the key to my present. My screaming fears tumble into a cleft that you alone can fill. Snuggle in the heart of my thoughts. I shall be your bark. And you, the sap of my peace.
Je me rappelle ton pays. Terre-eau, piquetée de riz. Douceur verdâtre. Pieds lourds des buffles dans la gluance tiède. Sur ta peau, la moiteur des nuits. Foisonnement d'ailes et de pattes, draps pesants fripés de rêves. Tes yeux, ombres lacustres regardant vers le futur: incertain marécage où grouillent les possibles.

I remember your country. Water-soaked soil dotted with rice shoots. Gently green. Water buffaloes, heavy hooves in warm, sticky muck. Muggy nights clammy on your skin. Swarming wings and paws; heavy dream-crumpled sheets. Lake shadows darken your eyes as they look towards the future: an unprobed marsh teeming with possibilities.